CONSERVATION MANAGEMENT DIVISION
The Conservation Management Division provides expert service in all aspects of conservation management. We specialise in industrial rope access working at heights, including
At heights landslip clearing, vegetation management and land stability rectification systems installation and maintenance
Land stability assessment, rectification systems design, installation and maintenance
Cleaning and maintenance services on tall buildings and structures
Establishment of rigging and fall protection for structures work and/or rope access tours set up
Tree access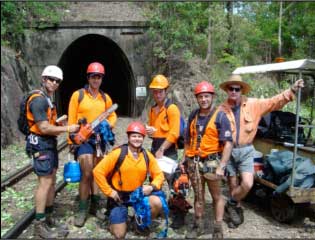 Investors In Nature also provide expert service in:
Landscaping and General Facilities Development and Maintenance
Tracks and Structures
Reforestation and Restoration
Weed Management
Wildlife Management
Fire Management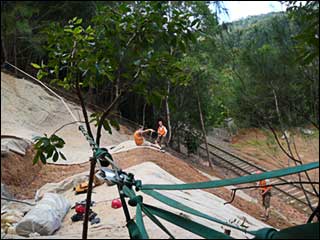 TOURISM DIVISION
Investors in Nature currently provides abseiling & rock climbing tours at "VERTS" Cairns Vertical Adventures Park on Mount Whitfield Conservation Park at Aeroglen(directly opposite the Cairns Airport).
Click here to visit the VERTS website.
We also provide specialist walking/driving &/or other tours services & events on request in the local area and we are in the progress of establishing "Barron Gorge Adventures", an amazing eco–tourism experience set in the renowned Barron Gorge National Park in Far North Queensland. Our unique nature and culture based adventure tours will include restoring exclusive access to a number of spectacular historical & natural sites, some of which have been inaccessible for over 30 years. We will specialise in low impact and spectacular adventure tour systems, which are currently planned to include:
Barron Falls Café, Interpretation Centre
A spectacular flying fox system
Canyoning and abseiling tours
Waterfalls
Re-established access to significant historical sites including King O'Malley's Chair Lookout, Mervyn Creek Falls and Lady Robinson's Lookout Barron Gorge Adventures will also offer various other special personalised tour packages upon request.